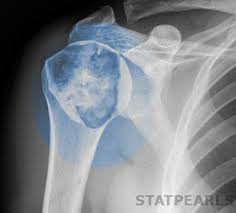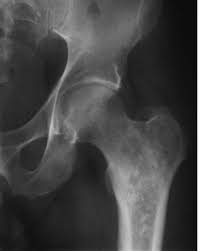 Second most frequent malignant bone tumor after osteosarcoma.
Median age of diagnosis is between 30 and 60 years, with no gender predominance.
The most common primary malignant bone tumor in adults, occurs predominantly in the trunk and limb girdles, with approximately with one-third occurring in the pelvis, sacrum and mobile spine.
Frequently involves the flat bones, including pelvis, ribs, sternum and scapula.
Prognosis depends on tumor site, type of surgical resection, resection margins and histologic grade.
Most classic chondrosarcomas are low grade, slow growing with a low rate of metastases.
Chondrosarcomas are heterogenous and occur in patients older than 50 years.
90% of chondrosarcomas are conventional low-to-intermediate grade with indolent behavior and low metastatic potential.
Only 5-10% of conventional chondrosarcomas are grade 3 lesions, with metastatic potential.
Histologic grade is the best predictor of relapse, and most low-grade lesions can be treated with surgery alone.
IDH1 and IDH2 mutations have been identified.
Overall survival of patients with usual chondrosarcoma is relatively high up to 87%.
Survival of patients with pelvic, sacral and spinal chondrosarcomas range from 25-54%.
Grade has been shown to be prognostically significant in all skeletal sites.
Of the pelvis comprises approximately 25% of cases while lesions of the sacrum and mobile spine constitute less than 5% of cases.
Of the pelvis has a higher rate of local recurrence than does stage-matched chondrosarcoma of the long bones.
Of the pelvis has a 5-year survival of 65% to 82% and a ten-year survival rates of 54% to 80%.
Of the pelvis has a 10-year survival of 97% with grade-1 lesions, 75% with grade-2 lesions, and 14% with dedifferentiated lesions.
Of the pelvis associated with a local recurrence rates from 19%-45%.
Of the pelvis associated with distant metastases of 17% to 36%.
Wide surgical margins significantly improve local control.
Requires surgical excision; radiation therapy and chemotherapy have not been shown to be reliably effective.
Conventional chondrosarcoma are chemotherapy resistant.