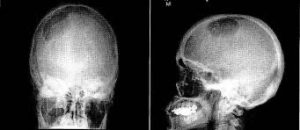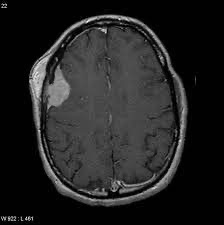 Skull tumors are estimated to account for approximately 1% of bone tumors.
The usual presentation is an enlarging skull mass, with or without pain, or cranial nerve deficits if the tumor involves the base of the skull.
Head CT scanning, with and without contrast, is the most useful investigation in determining the nature and extent of skull base tumors. 
Endonasal approaches to the skull base have significantly advanced abilities to treat tumors located there. 
The initial classification of a lesion is based on: osteolytic) or osteoblastic based on plain radiographs or CT scan
The findings of a sharply defined or irregular margin, the presence or absence of sclerotic borders, and calcifications in the lesion help to establish a tentative diagnosis. 
Most skull tumor MRI characteristics are hypointensity on T1-weighted images, hyperintensity on T2-weighted images, and some degree of contrast enhancement. 
Benign skull tumors:
Bone forming
Cartilage forming
Tumors of connective tissue
Histiocytic tumors
Tumors of blood or blood vessel origin
Fibrous dysplasia, 
Paget disease
Epidermoid, dermoid, or aneurysmal bone cysts.
Bone-forming tumors: Osteomas are the most common primary brain tumors of the calvaria, affecting 0.4% of the general population. 
Osteoid osteomas are common.
Ossifying fibromas are rare. 
Osteoblastomas account for approximately 1% of bone tumors.
Cartilage-forming tumors:
Chondromas and chondromyxoid fibromas are rare. 
Chondroblastoma, rare in some studies.
Connective tissue tumors: Desmoplastic fibroma is very rare in the skull.
Histiocytic tumors: Giant cell granuloma, nonossifying fibroma, and xanthoma are very rare in the skull.
Tumors of blood or blood vessel origin: 
Eosinophilic granuloma commonly affects the skull. 
Hemangiomas account for 10% of benign skull tumors.
Lymphangiomas: These tumors are rare.
Aneurysmal bone cysts, epidermoid 
Dermoid tumors, 
Intraosseous meningiomas
Fibrous dysplasia 
The prevalence of Paget disease is believed to be 1-5% in those older than 40 years.
Morbidity from Paget disease is due to recurrent sinusitis with tumors affecting sinuses or skull base, recurrence of tumor after excision, and cranial nerve compression at the skull base.
Malignant transformation to osteosarcoma, fibrosarcoma, or chondrosarcoma is observed in 2% of patients with Paget disease and 0.5% of patients with fibrous dysplasia.
Most skull tumors demonstrate no sex predilection.
Osteomas, ossifying fibromas, chondromas, and giant cell granulomas are observed more often in females than in males.
Osteoid osteomas, osteoblastomas, eosinophilic granuloma, and Paget disease affect males more often than females.
The female-to-male ratio of hemangiomas is 1:2.
Bone-forming tumors, connective tissue tumors, giant cell granulomas, and fibrous dysplasias usually manifest in young adults. 
Cartilage-forming tumors affect those aged 20-50 years.
Eosinophilic granuloma, nonossifying fibroma, and xanthoma usually manifest in those younger than 20 years. 
Epidermoids, dermoids, and lymphangiomas are usually observed in children.
The usual age of presentation for hemangiomas is in the fourth to sixth decade of life. 
Intraosseous meningioma and Paget disease affect those older than 50 years.
The prognosis varies very considerably based on the nature, location and size of the tumor, among other factors. 
The location of the lesion is of little differential diagnostic value.
Lesions of developmental origin have a strong midline propensity.
Single, small, grossly round and oval lesions are more likely to be benign. 
The presence of peripheral sclerosis strongly favors a benign tumor. 
The margin of a benign skull lesion lesion is of no diagnostic value.
Intralesional calcifications are more common in benign tumors. 
Peripheral bone vascularity also indicates a benign process.
Peripheral bone vascularity differential diagnosis includes: encephalocele, meningoencephalocele, venous lakes of the skull, pacchionian depression, fractures, surgical defects, osteomyelitis, tuberculosis, syphilis, osteoporosis, and congenital hemolytic anemia.
Slow-growing painless masses: osteoma, ossifying fibroma, chondroma, nonossifying fibroma, xanthoma, hemangioma, epidermoid, dermoid, meningioma, fibrous dysplasia,
osteoid osteoma, osteoblastoma, chondroblastoma, chondromyxoid fibroma, desmoplastic fibroma, giant cell granuloma, eosinophilic granuloma, and aneurysmal bone cyst.
Lymphangioma manifests as a painless cystic defect.
Osteoid osteoma manifests with nocturnal local tenderness.
Cranial nerve deficits are observed in chondroblastoma, giant cell granuloma, epidermoid, dermoid, fibrous dysplasia, and Paget disease.
A rapidly growing mass is observed in desmoplastic fibroma and giant cell granuloma.
Tumor location is unreliable for diagnosis. 
Osteomas usually involve the frontal bone.
Ossifying fibromas favor the frontotemporal region.
Cartilage tumors involve the skull base.
Giant cell granuloma affects the sphenoid, temporal, and ethmoid areas.
Eosinophilic granuloma affects the frontoparietal area.
The globular variety of hemangiomas affects the skull base, and the sessile type affects the frontotemporal region.
Epidermoids and dermoids usually involve the cerebellopontine angle, parapituitary region, and calvaria. 
Dermoids prefer the midline.
Ossifying meningiomas involve the frontal parietal area.
Paget disease usually involves the skull base.
Physical findings vary according to tumor type and location.
The lesion may be tender or nontender.
It may be soft or hard.
Cranial nerve deficits may be seen.
Other neurological deficits may be noticed depending on the nature, size, extent, and location of the lesion.
Orbital tumors arise from the orbital walls and are a relatively distinct set of tumors that may present with diplopia and or declining vision
Benign skull tumors are sporadic in occurrence.
Specific syndromes involving skull tumors:
Gardner syndrome is the triad of the following:
Multiple osteomas of the skull, sinus, and mandible
Soft tissue tumors of skin
Colon polyps
McCune-Albright syndrome comprises the triad of the following:
Polyostotic fibrous dysplasia
Hyperpigmented skin macules
Precocious puberty
Hand-Schüller-Christian disease consists of the following:
Diabetes insipidus
Exophthalmos
Bone lesions
Multiple enchondromas is known as Ollier syndrome.
Maffucci syndrome consists of the following:
Enchondromas
Dyschondroplasia
Cavernous hemangiomas of soft tissues or viscera.
Differential Diagnoses:
Brainstem Gliomas
Cerebral Aneurysms
Chronic Paroxysmal Hemicrania
Cluster Headache
Emergent Management of Subarachnoid Hemorrhage
Glioblastoma Multiforme
Oligodendroglioma Imaging
Meningioma
Migraine Headache
Migraine Variants
Multiple Sclerosis
Neural Tube Defects
Neurosarcoidosis
Pediatric Craniopharyngioma
Pediatric Ependymoma
Primary Malignant Skull Tumors
Most of the benign skull tumors appear as radiolucent lesions with the exception of osteomas, ossifying meningiomas, the sclerotic form of fibrous dysplasia, and the later stages of Paget disease.
Osteomas appear as round sclerotic lesions arising from the outer table
of the skull without involvement of diploë. 
Osteoid osteomas consist of a radiolucent nidus with a surrounding zone of dense sclerosis.
In ossifying fibromas, the initial lesion is radiolucent, but it progressively becomes radiopaque, with sharp margins and dilated vascular channels.
Osteoblastomas appear as well-demarcated noncontrast-enhancing lytic lesions with smooth calcified margins.
Chondromas are well circumscribed, with distinct areas of lucency.
Chondroblastoma manifests as a well-demarcated osteolytic area with varying degrees of calcification.
Chondromyxoid fibroma is radiolucent with tissue calcification.
Desmoplastic fibromas are well-defined lytic and expansile lesions with a typical soap bubble appearance. 
Desmoplastic fibromascause thinning of the overlying cortex without periosteal reaction.
Giant cell granulomas are radiolucent, well demarcated, and multiloculated, with thinning of the bone cortex,and 
CT scanning shows an isodense lesion, which may erode the overlying cortical bone.
Nonossifying fibromas and xanthomas are radiolucent with sclerotic margins and bony trabeculae with a soap bubble appearance.
Eosinophilic granuloma is a radiolucent, oval, well-demarcated lesion without sclerosis.
Eosinophilic granuloma has the appearance of a punched-out defect or a doughnut-shaped lesion that involves both the inner and outer table. 
On CT scan, it appears as a soft tissue mass within an area of bony destruction. 
Hemangiomas are well-defined nonenhancing lytic lesions with a characteristic honeycomb appearance. 
One third of hemangiomas show peripheral sclerosis and intralesional calcifications are common.
Lymphangiomas manifest as cystic defects of the bone.
Aneurysmal bone cysts are well-demarcated lesions that arise from the diploë and expand both the inner and outer tables of the skull. 
On CT scanning, they are multiloculated expansile bone lesions with characteristic fluid levels.
Epidermoids and dermoids are round lytic lesions arising within the diploë and have dense sclerotic borders. 
CT scanning shows a hypodense nonenhancing lesion with irregular borders.
Intraosseous meningiomas appear as irregular bone deposition on the inner and outer tables, usually in the vicinity of the coronal suture.
 Fibrous dysplasia has 3 different forms which manifest as skull lucency with patches of increased density.
This is an asymptomatic lesion and observation was recommended.
Biopsy of the skull lesion is of paramount importance for establishing the diagnosis and considering treatment options.
No treatment is required for asymptomatic lesions unless diagnostic concerns exist.
Stereotactic radiosurgery is considered as an alternative to surgical resection for benign meningiomas. 
Complete surgical excision, when feasible, is ideal for benign skull tumors for symptomatic relief, cosmetic reasons, or cranial nerve/neural decompression.
Curettage is also performed for lesions that cannot be resected completely. 
Gamma Knife and CyberKnife are ways of treating unresectable symptomatic lesions. 
Extended endonasal approaches to skull base lesions can access difficult-to-access lesions. 
Radiation therapy is acceptable as an adjuvant treatment in some partially resected lesions, such as ossifying fibroma, hemangioma, and aneurysmal bone cyst because of their high recurrence rate. 
Stereotactic neurosurical modalities such as the Gamma Knife and the CyberKnife are used now for inaccessible/ incompletely resected skull base lesions.