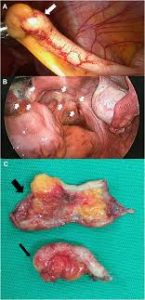 Appendiceal neuroendocrine tumors are often diagnosed incidentally and occur in 1 to 5% of all appendectomies with an annual incidence of 0.15 to 0.6 per hundred thousand people.
Treatment for appendiceal NETs of 1 to 2 cm size is an appendectomy. 
Lesions larger than 2 cm are appropriately treated with a right sided hemicolectomy. 
Lymph node metastases in appendiceal NETs are irrelevant.