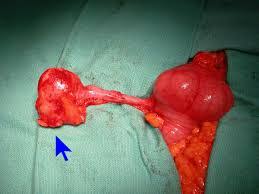 .01-3% of appendectomy specimens contain primary appendix cancers.
Incidence rate of 0.12 per 1 million-person-years.
Appendiceal tumors incidence is 100th of colorectal cancers.
6% of appendiceal cancers are mucinous cystadenocarcinomas.
Adenocarcinoma is the most common histologic malignant subtype, counting for more than half of the cases.
Other subtypes include lymphomas, sarcomas, neuroendocrine tumors, and goblet cell tumors.
Less than 1% of all cancers.
Median age at diagnosis is 56 years.
Appendiceal tumors are an incidental finding in approximately 1% of acute appendicitis specimens.
11.5% of patients with appendix cancer, who underwent clinical multigene panel testing, were found to have a pathogenic sequence variation, suggesting appendiceal cancer may be previously underrecognized indication of a hereditary cancer genetic syndrome.
Early stage lesions are usually incidentally diagnosed at resection for suspicion of appendicitis.
Advanced stage disease presents with abdominal distention related to the accumulation of mucin in the peritoneal space.
Mucinous tumors arise from a cystadenoma with mucin production.
Accumulation of mucin from a mucinous tumor results in a mucocele that mimics acute appendicitis or abscess formation.
Mucinous cystadenocarcinoma rarely diagnosed preoperatively.
A ruptured mucocele may lead to the development of a Pseudomyxoma peritonei whereby the spread of mucin and malignant cells result in peritoneal dissemination.
Mucinous adenocarcinomas have low incidence of lymphatic or hematogenous metastases.
Appendiceal mucinous neoplasms have an incidence of three per 1 million.
The clinical behavior of appendiceal mucinous neoplasms varies from non-ruptured and no risk for lymphnode metastases to disseminated or recurrent following appendectomy.
High-grade mucinous adenocarcinomas are typified by aggressive local tissue infiltration and widespread metastases.
Right hemicolectomy recommended when a non-mucinous lesion is present, when clear margins or complete resection must be accomplished, or appendiceal or ileocolic lymph nodes are involved.
Right hemicolectomy associated with survival rates of 45-55% which is more than the 20% for simple appendectomy.
Malignant tumors of the appendix include: mucinous epithelial neoplasms, neuroendocrine tumors and the goblet or composite carcinoid, lymphomas, adenocarcinomas, and lymphoid or mesenchymal sarcomas.
Histologically 65% of appendiceal tumors are of neuroendocrine origin, and adenocarcinomas are approximately 20% of these tumors.
The majority of pseudomyxoma peritoneal,the diffuse collection of gelatinous material in the abdomen and pelvis, and mucinous implants of the peritoneal surfaces, arise from the appendix and represent local spread into the peritoneal cavity.
For patients with low grade appendiceal mucinous tumor without extra appendiceal disease, appendectomy is indicated.
In patients with mucinous adenocarcinoma with local regional disease, right hemicolectomy with lymph node dissection should be performed.